Issues related to using our fonts in Crystal Reports

Hi I'm having a few errors with the Datamatrix Fontware 3.35.0 on a Crystal Report V 12.3.0. Below is the output of the barcode on a crystal report. My machine is running Windows 7 32-bit, Microsoft Office 2010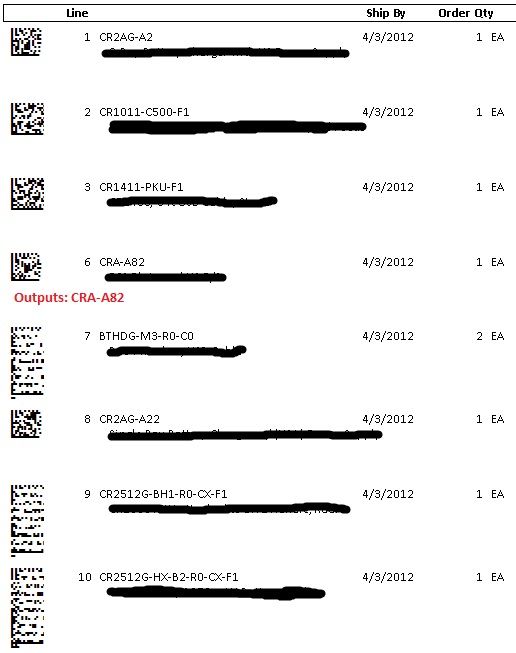 We have a database where it should be pulling the name ie. CR2AG-A2, CR1011-C500-F1 and so forth and should create that barcode to scan.
This is from the formula Editor in Crystal Report.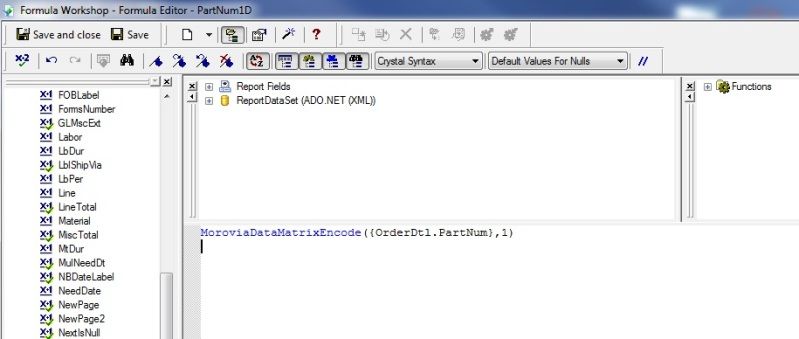 Issues:
1. None of the barcode scans expect for Line 6,CRA-A82
2. Why is the barcode outputting that long barcode? ie. Line 8, 9, 10 and it not scan.
Anyone have any ideas?
Posts: 3
Joined: Wed Apr 11, 2012 11:59 am
---
The bounding box you set for data matrix is too small. When the box width is too small to hold all characters in a line, the characters will wrap into the next line. It looks to be the case in 7, 9 and 10. Enlarging the box in design mode should eliminate the problem.
As for scanning problems - try printing to a laser printer if your printer is not laser. Scan the results. If it can scan, you have a low resolution printer and should adjust the font size to make it bigger. Also copy the string to GuI encoder and print from there.
Also make sure that you are using a decent 2D scanner from a name brand. Barcode reader software in mobile phones are not standard compliant and sometimes misread barcodes.
If you still have the problem, create a PDF print out and send to us with your order number. Send to
support@morovia.com
.
The information above is provided "AS IS", with no warranties, and confers no rights.
Support Engineer
Posts: 196
Joined: Wed May 14, 2008 2:42 pm
---
Thank you Glitch. I'll try those recommendations out. I'll let you know if it works or not.
Posts: 3
Joined: Wed Apr 11, 2012 11:59 am
---
Everything is working now. The first issue was due to the bounding box being too small and the scanning issue is due to a small font size.

Thanks again for the help glitch.
Posts: 3
Joined: Wed Apr 11, 2012 11:59 am
---
---
Users browsing this forum: No registered users and 1 guest