Below are only some of the many messages we have received from customers of our software. As you can tell from reading them, the common denominator is the appreciation for the level of support they received. When you adopt our software, you can expect the same.
Would you like to share your story? We would love to hear from you!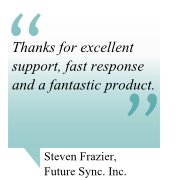 It's done. Volkswagen has accepted the label with the datamatrix and 128 barcodes. Many thanks for your excellent support. Your support is the main reason why we now buy all our barcode software from morovia.
Jörg Neeb, ORDAT GmbH & Co. KG
This is the best and fastest support that I have had by a company in a long time. I will be recommending your company to my company (We print barcode labels for 70% of the grocery chains) and to all of my clients that I do consulting for. Thanks Again.
Bill Simmons, Vestcom International
Perfect! I was able to import it from your database into mine. I should be able to test this now with a reader. I will work on it more in the next few days.
Thanks for excellent support, fast response and a fantastic product!
Steven Frazier, Future Sync. Inc.
I just wanted to say "Thanks!" for you guys taking the effort to put such a helpful resource up on the web. When our projects need Barcode printing too, then I'll be sure to look you up.
James Wilkinson, Kudos Digital Group Ltd
I am looking at a way to print UPC barcodes and put them on cartons. This one simply works! This company has a toll-free number which you can call to ask for tech help. Highly recommended.
Marshal, Kansas at CNet Software Review
I can scan the bar code from Word. Yippee! It does not allow me as many manipulative opportunities within Word BUT I have worked around that. I think I will be able to create what I need now.
Diane, ACS Alaska
Very decent software.
Pros: I have tried many barcode software to print my UPC codes. None of them even remotely match this one. One nice feature of this program is that you can drag and drop the barcode into Microsoft Word. The GUI interface is easy to learn.
Cons: The batch printing feature is good; but I hope that it will add database support in the future.
CNet Software Review
I have been looking for this thing (MICR-E13B) for years. It is so nice to find your company. Great products at bargain prices.
Michael Broker, Hillsdale, CA
We picked your package because of the detailed product documentation and ease of use. We are now able to create barcodes on our e-portal. The software package came with clear instructions and works seamlessly in the background.
Ramesh Paker, NetStandard, Inc.
Congratulations, on having produced this fantastic application. I wish you and your organization continued success with your products. As an end user, you can be reassured that it will always have a customer in me.
Raymond Wu, Director, Reservoir Manufacturing
I've tested all the MICR font I can find on web and I found your font is of the best quality.
Timothy Teply, Boston, MA
I tried almost all fonts available from the web. The only code128 font that works with Crystal Reports Chinese edition is from Morovia.
Paul Birtwistle, 3M China