This article illustrates the typical ordering process from MyCommerce. MyCommerce is one of online resellers that provide immediate download after the purchase. For better viewing experience, images displayed in this article are thumbnails. To view it full size, click on the thumbnail image.
In the first page, you are required to enter the following information:
Quantity

Order Type. The license type that you are ordering, please see license agreement for details.

License To. The registration code will be generated based on this field. Make sure that you entered an appropriate value. If you are purchasing for your employer, use your employer name for this field. If you are purchasing on behalf of another company, use that company name.
MyCommerce detects the country that you are from, and selects the currency and language for you. You can change them by selecting from the drop down list.
Note
American Express is only available in USD. If you are outside US and would like to pay by American Express, you must change the currency to USD at this page.
In this page, you are required to fill the billing and payment information.
VAT ID: MyCommerce participates EU VAT program. If you are from EU and have a VAT ID, you can enter the ID in order to remove the VAT from the order.
Paypal: to pay the purchase through Paypal, click on the Check out with Paypal button.
After you clicked on the Place Your Order button you can review the information before you confirm the order. If everything is correct, click on the Buy Now button.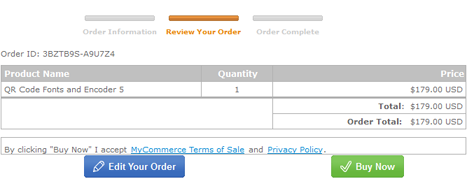 This example shows what happens when you pay by credit card. This is the easiest and fastest way to order. After you placed the order you should see something familiar like this:
From this page you can click on the Receipt to view the invoice. A typical invoice looks like below. Note that if you are in EU, your VAT ID and MyCommerce's VAT ID will be present in the invoice.