Many software are packaged in .msi format, which is the standard format for Windows Installer Server. Because system resources access are required for software to function, they require system admin privileges during installation.
Windows Vista uses a different security model and runs most program with privileges of a normal user. You must acquire system administrator privileges before installing the software.
The following procedure outlines how to install a .msi file under Windows Vista.
Files downloaded from another computer contain extra stream. Windows Vista block these files by default, which prevent it to run. As the first step, you need to Unblock it.
Right click on the file downloaded, and choose Properties...

If you see text This file came from another computer and might be blocked to help protect this computer. on the general tab, click on Unblock.
Locate the Windows Command Prompt shortcut in your Programs menu (typically Programs → Accessories → Command Prompt and right click on it: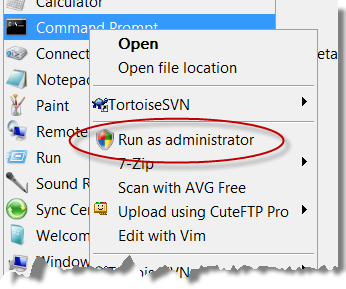 After you confirm, the command prompt will appear. CD into the directory that the file is located under, which is usually c:\users\youAccount\Downloads. Type the whole file at the command prompt, and hit Enter.
C:\Users\ACCOUNT\Downloads>Monterey_BarcodeCreator_V3.3.4.10.msi
The installation will run under administrative privilege.
You can turn off user access control (UAC) completely in Windows Vista. Doing so bypasses some of the additional security measures, but you can install programs just by double clicking on the .msi file without hassle.
To turn off UAC, follow the steps below:
Select Control Panel and click on User Accounts.

Click on User Accounts again.

Click on Turn User Account Control on or off

Uncheck Use User Account Control (UAC) to help protect your computer option.

Press OK and restart your computer for the changes to take effect.
If you have installed Monterey Barcode Creator trial (version 3.3 or above), you can turn the version into a full one by entering registration code. Doing so still require administrative privilege, but you can do so by following the steps below.
By default, the installation places a green icon on your desktop. Right click on the green icon and select Run As Administrator.

Select Help → About

Click on Register Now button and pop up the registration dialog.

If you saw the error message System Administrator Privier is required, the program does not have admin privilege. Close the program and start again.

Enter your license name and registration code. After confirm, you can close the program. The program is successfully registered.